Beklager. Denne hendelse har allerede funnet sted.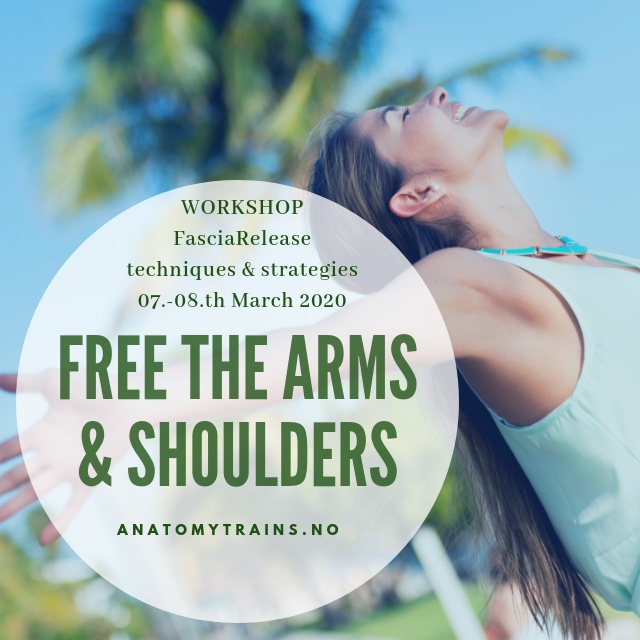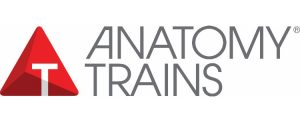 The Structural Essential series is a set of intensive soft-tissue technique courses divided into functional regions. Combining movement and manual techniques for the most efficient and long-lasting results, and using the latest research on the interaction between skeleton, muscles, joints, and fascial proprioceptors, this series of workshops will take you to a new level in therapy.
Designed with the busy manual therapist in mind, each Structural Essentials event gives you a new understanding of the relevant area. The content will outline how the structural and functional anatomy relates to many common issues as well as to the rest of the body. Based on many new and established approaches this series will give you the skills in palpation, BodyReading and functional analysis needed for the modern multidisciplinary therapist.
Nr.5 Shoulders and Arms
In this driving day and computer age, the arms get unique usage these days. This course travels from the shoulder to the hand on the Arm Lines, giving techniques for every station along the way.
These include:
Releases for each joint of the shoulder
Soft-tissue techniques for shoulder muscles
Elbow and upper arm muscle releases
Lower arm extensor, flexor, radial, and ulnar releases
Wrist and hand work


1 1
The Pathway towards professional Certification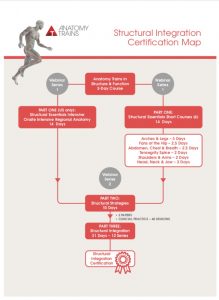 Anatomy Trains Structural Integration 
Bergen, Norway 2019/2020
Everybody needs to start with the Anatomy Trains Structure and Function 3-day overview class, where we get to know you and you get to know us. Follow up with our six regional anatomy workshops.
In the second phase, students apply the assessments and techniques from Part 1 to practice a 3-series protocol of Structural Integration with clinical practice on outside models in a 10-day program.
The third phase, 2 x 15-day classes is where students are taught and tested in the full 12-series program of Structural Integration. Graduates form this program are certified to practice ATSI and join the International Association of Structural Integrators (IASI).
Overview class –  Anatomy Trains, Structur & Function – 3 days with Thomas Myers – March 1st-3rd. 2019 – 6500 NOK
Note: It is strongly recommended to take the Anatomy Trains in Structure & Function course before taking the SE courses. Familiarity with the Anatomy Trains lines and concepts is key to getting the most from the program.
Part I: The six Structural Essentials 
Arches and the Legs – 3 days – June 14th-16th 2019  – 6500 NOK
Fans of the Hip – 2 ½ days – Aug. 30th- Sept. 1st 2019 – 5500 NOK
Abdomen, Chest & Breath – 2 ½ days – Oct. 25th-27th 2019 – 5500 NOK
Tensegrity Spine – 2 days – February 1st-2nd. 2020 – 4550 NOK
Shoulders & Arms – 2 days – March 7th- 8th. 2020 – 4550 NOK
Head, Neck & Jaw – 2 days – April 4th- 5th. 2020 – 4550 NOK
Part II: Structural Strategies –  3 series
10 days – with Michael Watson & Don Thompson – April 17th-26th. 2020 – 26 000 NOK
Part III: Structural Integration – 12 series – 67 000 NOK
15 days – with Thomas Myers, Lou Benson, Don Thompson, Kai Kjartan Høgberg (TBC)
September 19th. – October 3rd. 2020
15 days – with Lou Benson, Don Thompson, Michael Watson, Owen Lewis (TBC)
October 17th- October 31st. 2020
Note: To be able to apply for part III you need to have completed and gotten approved previous part II. 
Contact Therese at post@bergenbodywork.no to recive a application form. 
Do not make any non-refundable travel arrangements until you have received final confirmation that the workshop is running.
Information about Anatomy Trains courses worldwide: www.antomytrains.com
1 1